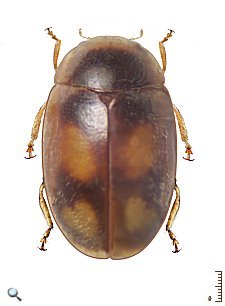 Heterodiomus apparitorius
(Weise, 1922)
Diagnosis : Forma alargada y oblonga, de color marrón claro. Pronoto con una gran mancha basal marrón oscura. Élitros marrón oscuro con los dos tercios anteriores de la mitad lateral de color marrón anaranjado y una mancha discal unida a este borde, que no toca la sutura, del mismo color. En el declive elitral una mancha acorazonada amarillenta, mismo color que ocupa una delgada franja lateral apical.
Variación: La extensión, colorido y forma de las manchas puede variar.
Distribución: Argentina (Buenos Aires, Entre Ríos, Santa Fé), Uruguay (Maldonado, Treinta y Tres).
Tamaño: 1,4 a 1,6 mm.
Sinonimia:
Diomus apparitorius Weise 1922, Scymnus apparitorius Blackwelder 1945, Diomus locuples Brèthes 1925a, Scymnus locuples Blackwelder 1945, Heterodiomus tetraspilotus Brèthes 1925b. Heterodiomus apparitorius Gordon 1999.
Bibliografía:
Blackwelder R.E. 1945. Checklist of the Coleopterous Insects of Mexico, Central America, the West Indies, and South America. Bulletin of the United States Natural History Museum 185(3): 343-550.
Brèthes. 1925a. Coccinellides du Brithish Museum (avec une nouvelle familie du Coleopteres). Anal. Mus. Nat. Hist. Nat. Buenos Aires,vol 33, (1925) pp. 195-214.
Brèthes. 1925b. Sur une collection de Coccinellides (et un Phalacridae) du British Museum. An Mus. Argent. Cienc. Nat. 33:145-175, 1923-1925 (1925)
Gordon R. D. 1999. South American Coccinellidae (Coleoptera). Part VI: a systematic revision of the South American Diomini, new tribu (Scymninae). Ann Zool Mus Inst Zool Polish Acad Sci 49 (supplement 1): 1-296.
Weise J. 1922. Coleoptera e Collectione Bruchiana. Anal. Soc. Cient. Arg., vol. 94, pp. 30-40.


Vistas dorsal, lateral, frontal y posterior. Variación vista dorsal.
Especímen de Argentina, prov. [Provincia] Buenos Aires, Punta Lara, II-1976, leg. M. Viana (JEBC).
Variación: Uruguay, Departamento Treinta y Tres, La Charqueada, Cabañas La Intendencia, 28-IX-2011, leg. W.S. Serra.