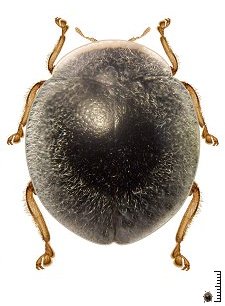 Zenoria revestita
Mulsant, 1850
Diagnosis: Forma oval apenas alargada. Cabeza amarilla. Pronoto negro con los ángulos delanteros y un delgado borde anterior y lateral amarillos. Élitros negros. Lado inferior negro excepto pronoto y tres últimos ventritos amarillos. Patas, piezas bucales y antenas amarillas. Pilosidad dorsal blanco grisacea excepto un círculo común a ambos élitros con pilosidad marrón oscura, de un diámetro de la mitad del ancho del élitro.
Variación: hembra con cabeza negra y pronoto solo con borde anterior amarillo interrumpido al centro, lado inferior del pronoto, piernas delanteras y medias y femures posteriores negros. Zona de pilosidad oscura en élitros a veces separada en una mancha circular en cada élitro, con la sutura con pilosidad blanco grisacea.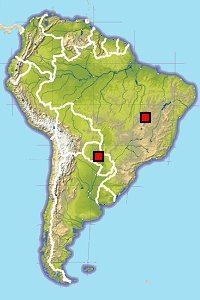 Sinonimia:
Zenoria revestita Mulsant 1850:900; Crotch 1874:277; Korschefsky 1931:108; Blackwelder 1945:443; Gordon 1971:14; Gordon 1972:437; Gordon 1987:33; Almeida, 1995:327; Santos 2015:67.
Zenoria linteolata Crotch 1874: 277 (como sinónimo de Z. revestita)
Ladoria rudepunctata Crotch 1874: 280; Korschefsky 1931:231; Bertoni 1925:74; Blackwelder, 1945:451; Gordon, 1972:437; Gordon, 1987:33.
Tamaño: 3,0 a 3,3 mm.
Distribución: Brasil (Minas Gerais, Rio de Janeiro), Paraguay (Asunción).
Observaciones: la especie es similar a otras con el mismo diseño, de las cuales se diferencia principalmente por el aparato genital del macho.
Nota: textos e imágenes adaptados de Gordon (1971) y Santos (2015). Lectotipo designado por Gordon (1971) depositado en la Colección Crotch de la Universidad de Cambridge (UCCC). La cita de Paraguay proviene de Bertoni (1925) y debe ser confirmada. Un ejemplar hembra de la colección de Jaroslav Vétrovec (JVC, Reoública Checa) confirma esta distribución, y permite documentar por primera vez el aparato genital de la hembra.


Vistas dorsal, ventral, lateral, frontal y posterior. Variaciones (2):vista dorsal
Espécimen de Brasil, MG [Minas Gerais], Volta Grande, 1-II-2008, leg. L.C. Torres, Citrus
(CPGG).
Variaciones: 1) adaptado de Santos (2015). 2) "Paraguay, H. Schulz." (JVC).

Tegmen, falobase y lóbulo basal en vista ventral. Tegmen en vista lateral y detalle. Penis (sifón) y detalle del ápice.
Bibliografía:
Almeida L. M. 1995. A new species of Zenoria Mulsant from Brazil (Coleoptera: Coccinellidae). Journal of The New York Entomological Society 103(3): 324-328.
Bertoni A., 1925. Coccinélidos de Paraguay. Revista de la Sociedad Científica de Paraguay 1: 74.
Blackwelder R. E. 1945. Checklist of the Coleopterous Insects of Mexico, Central America, the West Indies, and South America, Part. 3, United States National Museum Bulletin 185: 343-550.
Crotch G.R. 1874. A revision of the Coleopterous Family Coccinellidae, University Press, London, 311 p.
Gordon R.D. 1971. A revision of the genus Zenoria Mulsant (Coleoptera: Coccinellidae). Smithsonian Contributions to Zoology 86: 1-22.


Hembra: aparato genital, coxitos, espermateca.
Gordon R.D. 1972. Additional notes on the taxonomy of the genus Zenoria (Coleoptera: Coccinellidae).Proceedings of the Entomological Society of Washington 7(4): 433-442.
Gordon R.D. 1987. A catalogue of the Crotch collection of Coccinellidae (Coleoptera). Occasional Papers on Systematic Entomology, London, 3: 1-46.
Korchefsky R. 1931. Coccinellidae I. In: Coleopterorum Catalogus. Berlin, W. Junk, 118: 1-224.
Mulsant E. 1850. Species de Coleóptères Trimères Sécuripalpes, Paris, Lyón, 1104 pp.
Santos P.B. 2015. Filogenia do gênero Neotropical Zenoria Mulsant, 1850 (Coleoptera, Coccinellidae, Ortaliinae). Dissertação [….] de Universidade Federal do Parana [….], Curitiba (Tesis no publicada).