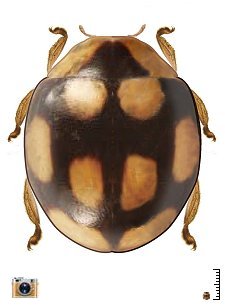 Serratitibia bisquatuorpustulata
(Mulsant, 1850)
Diagnosis (hembra): Cuerpo ovalado, convexo. Cabeza amarilla. Pronoto amarillo con una mancha basal subtriangular marrón, extendida hasta casi el borde anterior, ápice de la mancha indentado al centro con amarillo. Escutelo negro. Élitros negros con 4 manchas amarillas (1:2:1), manchas grandes de 1/4 del largo del élitro o más, la mediolateral oval separada del borde, alargada, la apical transversal, con borde anterior cóncavo, la humeral ausente. Lado inferior amarillo, prosterno, meso-, metasterno y parte media de ventritos 1 y 2 marrón oscuro, resto del abdomen marrón amarillento. Patas, antenas y piezas bucales amarillas. Poros entre ventritos 4 y 5 pequeños.
Variación: macho con mancha negra pronotal solo hasta la 1/2 del largo, élitros con mancha humeral presente. En las hembras ápice de la mancha pronotal oscura puede ser redondeado, no indentado.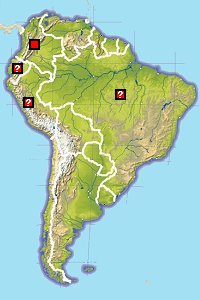 Nota: Textos e imágenes adaptados de Gordon et al. (2013). Lectotipo hembra designado por Gordon (1987) se encuentra depositado en la Crotch Collection en la Universidad de Cambridge, Inglaterra, UK (UCCC)
Sinonimia:
Cleothera bis-quatuorpustulata Mulsant, 1850: 634.
Hyperaspis bis-quatuor-pustulata: Crotch 1874: 222.
Hyperaspis jocosa ab. bisquatuorpustulata: Korschefsky 1931: 190; Blackwelder 1945: 447.
Hyperaspis bisquatuorpustulata: Gordon 1987: 228.
Serratitibia bisquatuorpustulata Gordon et al. 2013:39.
Bibliografía:
Blackwelder R. E. 1945. Checklist of the Coleopterous Insects of Mexico, Central America, the West Indies, and South America, Part. 3, United States National Museum Bulletin 185: 343-550.
Crotch G.R. 1874. A revision of the Coleopterous Family Coccinellidae, University Press, London, 311 p.
Gordon R.D. 1987. A catalogue of the Crotch collection of Coccinellidae (Coleoptera). Occasional Papers on Systematic Entomology, London, 3: 1-46
Gordon R.D., C. Canepari, and G. A. Hanley. 2013. South American Coccinellidae (Coleoptera), Part XII: New name for Cyra Mulsant, review of Brachiacanthini genera, and systematic revision of Cleothera Mulsant, Hinda Mulsant and Serratitibia Gordon and Canepari, new genus. Insecta Mundi 0278: 1-150.
Korschefsky R. 1931. Coleopterum Catalogus, pars 118 Coccinellidae I, W Junk: Schenklink, 124 pp.
Mulsant E. 1850. Species des Coleopteres Trimeres Securipalpes, Ann. Sci. Phys. Nat. Lyon, ser.2, vol. 2, pp. 1-1104.


Tamaño: 2,0 a 2,4 mm.
Distribución: Colombia (Cundinamarca), Ecuador ? (Napo).

Observación: La ausencia de la mancha humeral es característica, pero solo se da en las hembras. El ejemplar macho de Ecuador la presenta, pero su asignación a la especie debe ser corroborada.


Vistas dorsal, frontal, lateral y posterior (hembra).
Espécimen de datos no especificados. Adaptado de Gordon et al. (2013)


Tegmen y lóbulo basal en vista dorsal. Sifón y detalle del ápice.