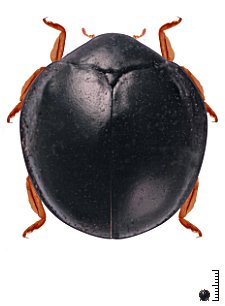 Cryptognatha cf. aethiops
(Crotch, 1874)
Diagnosis: Forma semicircular y convexa. Cabeza amarilla. Pronoto negro con cada 1/4 lateral amarillo. Escutelo y élitros negros, los últimos con unas poco aparentes manchas rojo oscuro en el ápice. Lado inferior negro, ventritos rojo anaranjados. Patas, antenas y piezas bucales amarillentas.
Distribución: Colombia (Nariño).
Tamaño: 2,7 a 3,4 mm.
Observaciones: el ejemplar coincide bien con las descripciones de Crotch y Chapin, excepto las zonas rojo oscuro en el ápice elitral, por lo que se requiere revisar más ejemplares.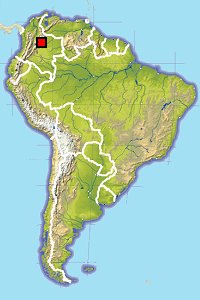 Sinonimia:
Cryptognatha aethiops Crotch 1874:206; Blackwelder 1945:449; Chapin 1964:233.
Bibliografía:
Blackwelder R. E. 1945. Checklist of the Coleopterous Insects of Mexico, Central America, the West Indies, and South America, Part. 3, United States National Museum Bulletin 185: 343-550.
Chapin E.A. 1964. Las especies colombianas de Cryptognatha (Coleoptera: Coccinellidae). Revista de la Academia Colombiana de Ciencias Exactas, Físicas y Naturales 12(46): 231-234.
Crotch G.R. 1874. A revision of the Coleopterous Family Coccinellidae, University Press, London, 311 p.

Vistas dorsal, lateral, frontal y posterior.
Especímen de [Colombia], Nariño, Tumaco, VIII-1967, [leg.] O. Jiménez,
en palma africana [Elaeis guineensis] (MEFLG).