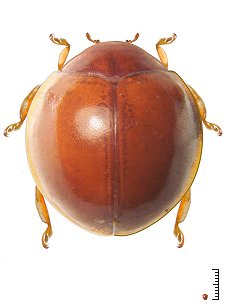 Pentilia insidiosa
Mulsant, 1850
Diagnosis: Forma semicircular. Cabeza, pronoto, escutelo y elitros marrón rojizo. Lado inferior marrón rojizo. Patas de un rojo pálido.
Tamaño: largo: 2,0 mm; ancho: 1,8 mm; L/A: 1,1
Distribución: Colombia, Guayana Francesa, Venezuela.
Observación: La especie parece tener un colorido característico, pero Crotch (1974) indica que el ejemplar tipo es inmaduro. Por diseño es cercana a Pentilia sadie, de Colombia y Venezuela. No es factible de identificar mientras no se revise el material tipo.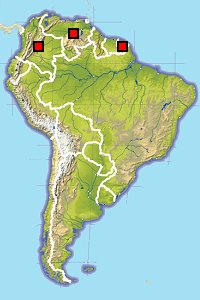 Sinonimia:
Pentilia cincta Mulsant 1850: 503; Crotch 1874: 199; Korschefsky 1931: 224; Blackwelder 1945:450; Gordon et al 2019:1.
Bibliografía:
Blackwelder R. E. 1945. Checklist of the Coleopterous Insects of Mexico, Central America, the West Indies, and South America, Part. 3, United States National Museum Bulletin 185: 343-550.
Gordon R.D. 1987. A catalogue of the Crotch collection of Coccinellidae (Coleoptera). Occasional Papers on Systematic Entomology, London, 3: 1-46.
Gordon R.D., G. González & G.A. Hanley 2019. South American Coccinellidae (Coleoptera), Part XXI: systematic revision of South American Pentilia Mulsant (Cryptognathini). Insecta Mundi 0729: 1-28.
Korschefsky R. 1931. Coleopterorum Catalogus, pars 118 Coccinellidae I, W Junk: Schenklink, 224 pp.
Crotch G.R. 1874. A revision of the Coleopterous Family Coccinellidae, University Press, London, 311 p.
Mulsant E. 1850. Species des Coleopteres Trimeres Securipalpes, Ann. Sci. Phys. Nat. Lyon, ser.2, vol. 2, pp. 1-1104.

Nota: La especie no fue incluida en la revision del género (Gordon et al. 2019), debido a que el material tipo no pudo ser consultado, el cual debiera encontrarse en la coleccion Dupont, que segun Gordon (1987) estaría en el Museo de Historia Natural de Paris (MNHN). Textos e imágenes adaptados de Mulsant (1850).


Vistas dorsal, frontal, lateral, y posterior
Espécimen reconstruido de Mulsant (1850).