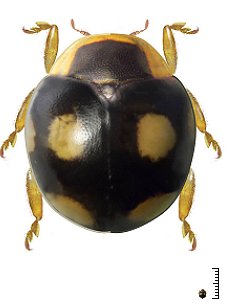 Hyperaspis donzeli
(Mulsant, 1850)
Diagnosis (macho): Cuerpo redondeada, algo deprimida. Cabeza negra. Pronoto amarillo con una gran mancha negra cuadrangular al medio de la base, separada del borde anterior. Escutelo y élitros negros, este con tres manchas discales amarillas (2:1), la primera redonda al medio del disco, de algo más de 1/3 del largo del élitro, la segunda en el borde lateral, algo triangular, la última otra en el borde del declive apical, transversal oval. Lado inferior negro, hipómeros amarillos, abdomen negro con 1/4 lateral y últimos dos ventritos rojo amarillento. Antenas, piezas bucales y patas amarillas. Pronoto y élitros brillantes, cabeza menos brillante.

Distribución: Brasil, Paraguay (Itapúa).
Tamaño: 3,0 mm.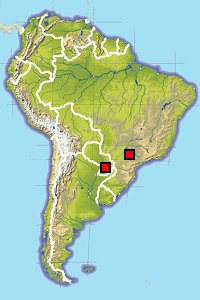 Observación:Muy similar a Hyperaspis pseudodonzeli, se distingue por la distribución geográfica y las antenas de 10 antenómeros. Hembra desconocida.
Sinonimia:
Cleothera donzeli Mulsant 1850: 638.i
Hyperaspis donzeli Crotch 1874:222, Korschefsky 1931: 187; Blackwelder 1945: 447; Gordon 1987: 28. Gordon & Canepari 2008; 298.
Bibliografía:

Blackwelder R. E. 1945. Checklist of the Coleopterous Insects of Mexico, Central America, the West Indies, and South America, Part. 3, United States National Museum Bulletin 185: 343-550.
Crotch G.R. 1874. A revision of the Coleopterous Family Coccinellidae, University Press, London, 311 p.
Gordon R.D. 1987. A catalogue of the Crotch collection of Coccinellidae (Coleoptera). Occasional Papers on Systematic Entomology, London, 3: 1-46.
Gordon R.D. & Canepari, C. 2008. South American Coccinellidae (Coleoptera). Part XI: A systematic revision of Hyperaspidini (Hyperaspidinae) Annali Museo Civico di Storia Naturale G. Doria 99:245-512.
Korschefsky R. 1931. Coleopterorum Catalogus, pars 118 Coccinellidae I, W Junk: Schenklink, 224 pp.
Mulsant E. 1850. Species des Coleopteres Trimeres Securipalpes, Ann. Sci. Phys. Nat. Lyon, ser.2, vol. 2, pp. 1-1104



Nota: Textos e imágenes adaptados de Gordon & Canepari (2008). Lectotipo designado por Gordon & Canepari (2008) de Brasil, depositado en el Muséum d'Histoire Naturelle, París (MNHNP).

Vistas dorsal, frontal, lateral y posterior.
Especimen macho de "Paraguay: Itapúa. Sa. Trinidad" (USNM).
Adaptado de Gordon & Canepari (2008).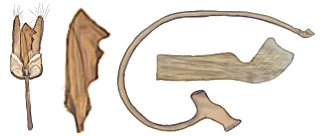 Tegmen y lóbulo basal en vista dorsal. Sifón y detalle del ápice.