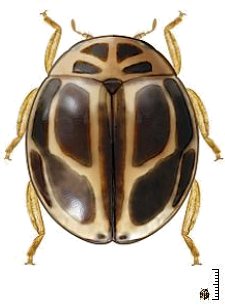 Hyperaspis eupaleoides
Crotch, 1874
Diagnosis: Cuerpo ovalado, convexo. Cabeza amarilla. Pronoto amarillo con 4 manchas marrones triangulares dirigidas hacia el centro de la base, dos discales y dos sub-basales. Escutelo marrón. Élitros amarillos con una franja en la sutura y 4 manchas marrones (2,2), grandes, y dejando solo un angosto borde amarillo entre ellas, la 2 y la 3 unidas por un puente marrón, y 2 puntos marrones cerca del ápice. Lado inferior amarillo, excepto pro-, meso- y metasterno marrón amarillento, abdomen marrón amarillento con 1/4 lateral y ventritos 5 y 6 amarillos. Patas, antenas y piezas bucales amarillas. Cabeza opaca, élitros, y pronoto brillantes.
Tamaño: 3,0 a 3,3 mm.
Distribución: Brasil (Minas Gerais, Rio de Janeiro).
Observación: el diseño elitral es único entre las especies del género, pero similar a algunas especies de Cyrea, Eupalea o Psyllobora.
Sinonimia:
Hyperaspis eupaleoides Crotch 1874: 224; Korschefsky 1931:188; Blackwelder 1945:447; Gordon 1987:28. Gordon & Canepari 2008: 352.
Hyperaspis graphica W ;.Weise 1902: 174; Korschefsky 1931:190; Blackwelder 1945:447.
Bibliografía:
Blackwelder, R.E. 1945. Checklist of the Coleopterous Insects of Mexico, Central America, the West Indies, and South America. Bulletin of the United States Natural History Museum 185(3): 343-550.
Crotch G.R. 1874. A revision of the Coleopterous Family Coccinellidae, University Press, London, 311 p.
Gordon R.D. 1987. A catalogue of the Crotch collection of Coccinellidae (Coleoptera). Occasional Papers on Systematic Entomology, London, 3: 1-46.
Gordon R.D. & Canepari, C. 2008. South American Coccinellidae (Coleoptera). Part XI: A systematic revision of Hyperaspidini (Hyperaspidinae) Annali Museo Civico di Storia Naturale G. Doria 99:245-512.
Korschefsky R. 1931. Coleopterorum Catalogus, pars 118 Coccinellidae I, W Junk: Schenklink, 224 pp.
Weise J. 1902. Coccinelliden aus Süd Amerika. III.Deutsche Entomologische Zeitschrift 1902: 161-176.




Nota: Textos e imágenes adaptados de Gordon & Canepari (2008). Lectotipo de "Brazil, Minas Gerais" designado por Gordon 1987 depositado en Crotch Collection en la Universidad de Cambridge, Inglaterra, UK. (UCCC).


Vistas dorsal, frontal, lateral y posterior.
Espécimen de datos no especificados, adaptado de Gordon & Canepari (2008).


Tegmen y lóbulo basal en vista dorsal. Sifón y detalle del ápice.