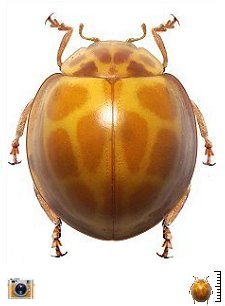 Neda tredecimsignata
(Mulsant, 1850)
Diagnosis: Forma casi redonda y amarilla con manchas marrón anaranjado. Pronoto con siete manchas: una pequeñita en la base, 4 grandes en semicirculo y dos paralelas al borde lateral. Élitros con nueve manchas cada uno: dos suturales comunes (alrededor del escutelo y alrededor de los 4/5 del largo), cuatro grandes discales (1,2,1) y tres paralelas al borde lateral: la primera pequeña en la base, la segunda ocupa el resto de los dos tercios delanteros y la última en el tercio posterior sin tocar el ápice.
Tamaño: 5,5 a 7,5 mm.
Distribución: Argentina (Misiones), Brasil (Paraná, Rio de Janeiro, Sao Paulo). Primer registro para Argentina (ver datos abajo).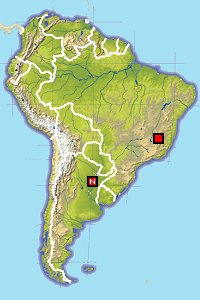 Observaciones: Araujo & Almeida (2003) transfirieron provisionalmente esta especie al género Neda, en espera de una revisión del grupo.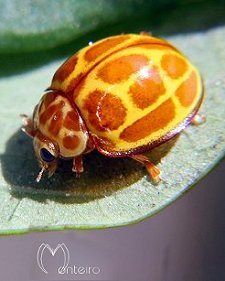 Sinonimia:
Daulis tredecim-signata Mulsant 1850:311, 1866:216
Cycloneda tredecim-signata Crotch 1874:165
Cycloneda tredecimsignata Korschefsky 1931:287, Blackwelder 1945:453; Gordon 1987:20.
Neda tredecimsignata Araujo & Almeida 2003:6
Bibliografía:
Araujo M. & Almeida L.M. 2003. Neda Mulsant (Coleoptera, Coccinellidae):redescriptions and revised combinations of two species formerly placed in Cycloneda Crotch. Zootaxa, Auckland, 319:1-10.
Blackwelder R. E. 1945. Checklist of the Coleopterous Insects of Mexico, Central America, the West Indies, and South America, Part. 3, United States National Museum Bulletin 185: 343-550.
Crotch G.R. 1874. A revision of the Coleopterous Family Coccinellidae, University Press, London, 311 p.
Gordon R.D. 1987. A catalogue of the Crotch collection of Coccinellidae (Coleoptera). Occasional Papers on Systematic Entomology, London, 3: 1-46.
Korschefsky R. 1931. Coccinellidae I. In: Coleopterorum Catalogus. Berlin, W. Junk, 118: 1-224.
Mulsant E. 1850. Species des Coleopteres Trimeres Securipalpes, Ann. Sci. Phys. Nat. Lyon, ser.2, vol. 2, pp. 1-1104.
Mulsant E. 1866. Monographie des coccinellides. Memoires de l'Academie imperiale des sciences, belles-lettres et arts de Lyon 15: 1-112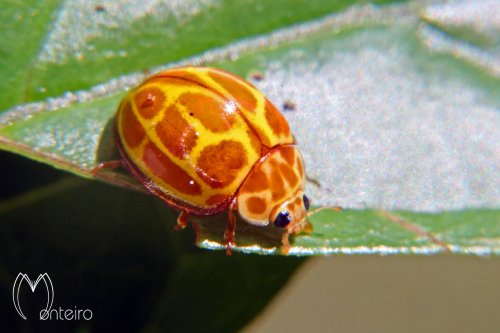 En la naturaleza (arriba y a la izquierda): hermosas fotos de un gran ejemplar paseando sobre hojas fotografiado en Curitiba, Brasil (fotos Sergio Monteiro, narrador visual).



Vistas dorsal, lateral, frontal y posterior.
Espécimen de "Argentina, Misiones, Dº (?) Iguazú. III-1968, leg. M. Galiano.
/ Ex-col M. Viana / Col J.E.Barriga, Curicó, Chile" (JEBC).



Tegmen en vista dorsal y lateral. Sifón en vista lateral y detalle del ápice.